Hardwood Floor Cleaners
Follow these floor cleaning and care tips to help your floor always look its best.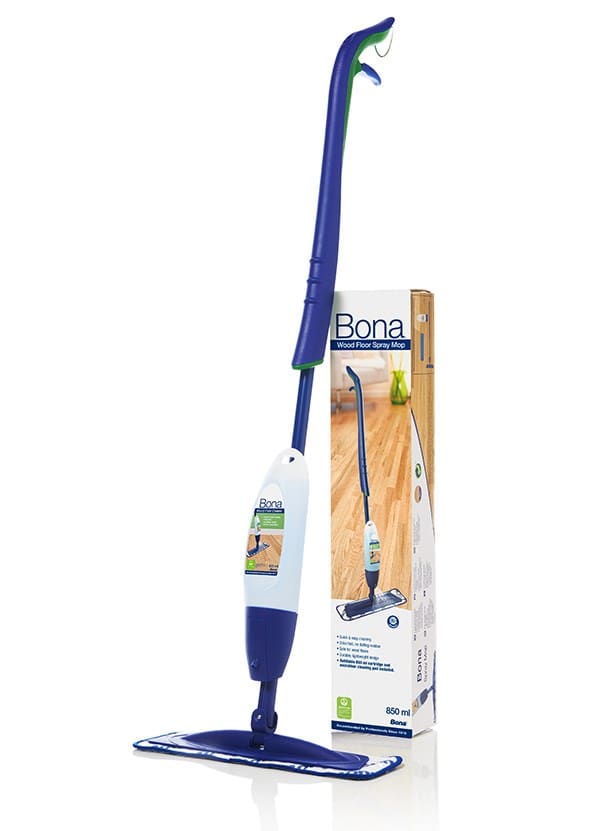 Bona® Wood Floor Spray Mop
Bona premium floor mops are durable, effective and easy to use. The Wood Floor Spray Mop enables you to clean and maintain your wood floor in a sweep. Ergonomic and simple to use, the Spray Mop is quick to assemble and refill.
The Spray Mop is quick to assemble and refill with the specially developed Bona floor cleaner cartridge. Forget filling up a bucket and adding concentrate – just spray and clean.
KEY BENEFITS
• Specially developed for wooden floors
• Ergonomic design
• Refillable cartridge
• Easy, streak free cleaning
• Environmentally sound, PH neutral cleaner
• Rotating head for ultimate reach in difficult areas
• Washable microfibre cleaning pad
Bona® Hardwood Cleaner Cartridge
Professional strength, non-toxic waterborne cleaner, specially formulated for all types of hardwood floors that are coated with a clear, unwaxed finish. Leaves no dulling residue.
Bona® Cleaner
Concentrated detergent for simple and safe cleaning of finished wood and cork floors. Low foaming and equally suitable for machine cleaning and manual cleaning. Leaves no dulling or slippery residue.
Stone, Tile & Laminate Cleaners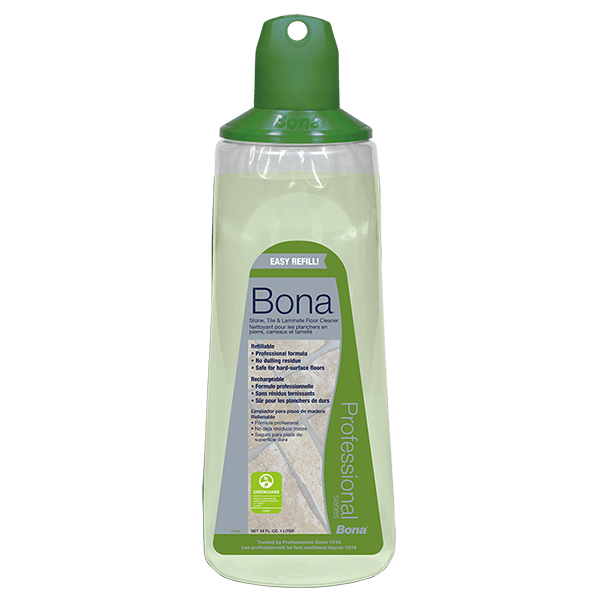 Bona Pro Series Stone, Tile & Laminate Refill Cartridge
NEW and IMPROVED cartridge with 34 ounces of Bona's Pro Series Stone, Tile & Laminate Floor Cleaner. A professional strength, non-toxic, waterborne cleaner formulated for all types of stone, tile, and laminate floors with no dulling residue.
Bona® Stone, Tile & Laminate Cleaner (160 oz.)
Save with economy size! Easy and safe for sealed hard surface floors including: linoleum, stone, terrazzo, vinyl, sealed porous marble, laminate,and no-wax sealed tile (ceramic, Mexican Saltillo, quarry). Waterborne, non-toxic, and leaves no dulling residue.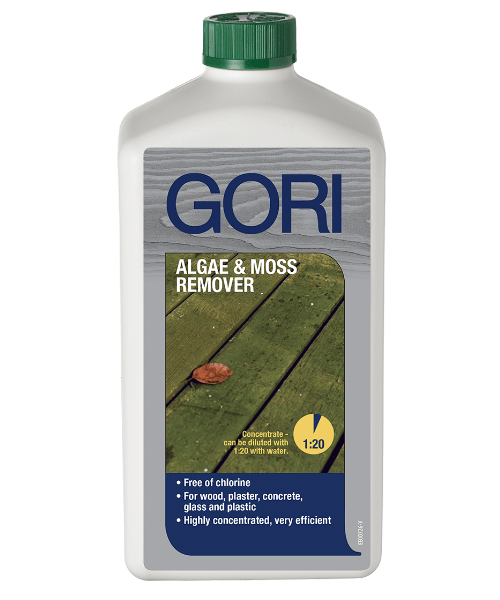 GORI Algae & Moss Remover
GORI Algae- & Moss Remover is a highly concentrated, which effectively removes mould and algae from almost any surface.
Recommended for
Outdoor wooden decks – all kinds of wood incl. teak, nyatoh, bangkirai, meranti, ipe, and also pressure impregnated wood. Can also be used on plaster, concrete, glass, terracotta, paving stones, roof tiles, roofing fabric, tiles, ceramic surfaces and plastic.